Skip Navigation
Website Accessibility
Regalia Longarm Machine and Frame
Give your quilting projects the royal treatment on the Regalia-Baby Lock's largest longarm machine yet! With 20" of workspace and a lighting-fast 2,500 stitches per minute, the Baby Lock Regalia longarm quilting machine is ready to easily finish quilts of any size. It features a built-in Stitch Regulator that ensures smooth, precise stitching for a harmonious finish.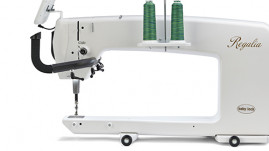 Large 20" Workspace
As a longarm machine, the Regalia's larger workspace allows you to stitch freely without worrying about limitations.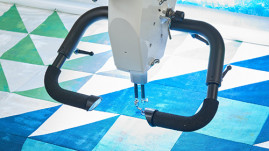 Adjustable Front Handlebars
Effortlessly control the motion of the Regalia with the comfort grip front handles that are independently adjustable and extendable.
Set and easily read Stitch Control Features with the large, color LCD screen. The onscreen handwheel raises and lowers your needle without having to reach around the machine.
Easily and automatically cut threads in the middle of an individual color segment instead of after each color. Thread no longer travels across the hoop or your design.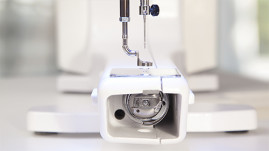 Large "M" Class Bobbin
Enjoy fewer bobbin changes with the largest bobbins available in quilting (up to 40% larger). With variable speeds on the electric bobbin winder, you can easily wind thread of different types and weights.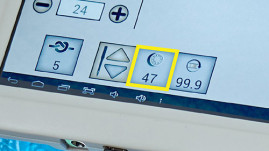 Quick Set Tension
Easily adjust upper thread tension and view your settings on the digital LCD readout.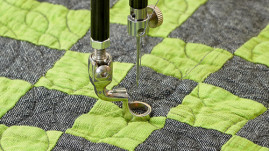 Built-in Stitch Regulator and Needle Beam
The Regalia has built-in stitch regulation so you can quilt smooth, even-length stitches. The Needle Beam highlights your needle position so you know exactly where your next stitch is.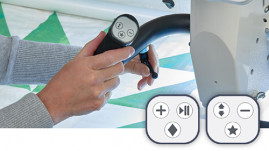 Push Button Features
Change the stitching speed, start and stop the Regalia, or place the needle up or down with buttons directly built into the programmable handles.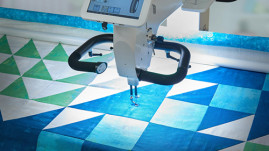 LED Lighting
Long-lasting, high intensity LED lights illuminate your workspace so you can see every detail on your quilt.