Skip Navigation
Website Accessibility
December 2020 will be the final SewBusy Box.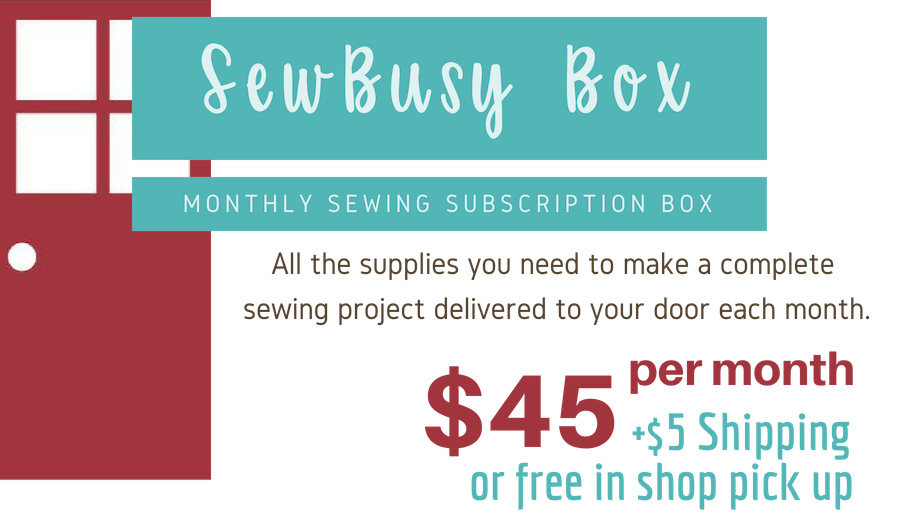 SewBusy Box is a monthly subscription sewing box that automatically delivers all the supplies you'll need to make a complete fabric based project.

No need to hunt through your stash or run out to the store for one more item.

Along the way you'll discover new products, techniques, and fun new ways to use fabric! We'll have a different type of project every month like mini quilts, home decor, table runners, bags, and accessories. Most months the project will be made using cotton quilting fabric, but occasionally we will expand your horizons with different types of fabric like cork, wool, flannel, the possibilities are endless. SewBusy Box is great for beginners to advanced sewers. In addition to all the supplies needed, each month's box will include detailed instructions and tips to help you be successful with your latest project.
Most projects will require that you already have a sewing machine and basic sewing supplies (rotary cutter, mat, ruler, scissors, iron, and hand and machine needles).
How does the subscription work?
Sign up to be charged monthly. You have the option of having the box mailed to you or picking it up at Rae-Bon Sew & Quilt Shop in Fargo, ND. Once you hit subscribe, you will be transferred to PayPal to enter your credit card information. Your SewBusy Box will ship on the 10th of the month. Your membership will start the month after you sign up. For example, if you sign up on January 27, you will receive a box in February. If you sign up on February 3, you won't receive a box until March.
Will I know what's in each box before it arrives?
Each month is a surprise! Part of the fun is getting the unexpected and trying a tool or technique you haven't used before.
I'm a beginning sewer. Is this box for me?
The projects are geared towards all levels of sewer. Each month we include clear, easy to follow instructions, so you'll be able to easily complete each project. If you're an advanced sewer, you'll enjoy trying out new techniques and finding new creative ways to work with fabric.
What if I don't like what's in my box?
We aim to make each month a unique project, so over time you'll collect lots of different patterns and ideas. We hope you'll love every month, but even if a particular month's colors aren't your normal pallet, we hope you'll discover a new technique or tool you haven't seen before. Sewbusy Box is not returnable. However, if your product arrives defective, please let us know and we'll replace it for you.
When will my box ship?
All boxes will ship on or before the 10th of each month.

How can I cancel my subscription?

You can unsubscribe by logging into your PayPal Account.
Click the Settings Icon next to "Log out"

Select Preapproved Payments under "Payment Settings"


Select Rae-Bon and click "Cancel Subscription"
Having trouble? Call Rae-Bon Sew & Quilt Shop at 701-433-7203 or email us at RedDoor@rae-bon.com.

Have questions, feedback, or ideas for future projects?
Email us at RedDoor@rae-bon.com. We'd love to hear from you!