Were you wowed by a Scan n Cut demo but are a little nervous to get started? Or maybe you just know there is more you could be doing with your Scan n Cut? We've got a class for you!
Jennifer has created a five session class covering a range of the Scan n Cut features. Each session will build on previous knowledge so you become an expert on the Scan n Cut and Canvas Workspace. It's easier to remember what different features do and why you would want to use them when making an actual project, so Jennifer has curated a collection of projects across a range of crafts. You'll create beautiful things while learning all your machine can do. We hope you'll love all the projects but if some of them are not your style or interest, please remember you're learning the techniques! Once you have these valuable skills you'll be able to apply them to future projects that you dream up.
The materials you need to create each project are included in the kit fee. These classes are your opportunity to try out lots of different techniques and materials to see what you like. No need to buy an entire roll of foil if that's not your cup of tea. We'll have a sample for you to use in class. But if you love the fusible web we're testing out, we can show you how to purchase more.
You will need to bring your Scan n Cut to class each session as well as any Scan n Cut consumables (mats, blades, etc.) and some basic crafting supplies. A supply list will be provided each session so you know what to bring. Some sessions we will be using Canvas Workspace, Brothers free online software for editing and creating cutting files. For these sessions you will need to bring a laptop (recommended) or tablet so you can get hands on practice.

Enrolling in Class
The Scan n Cut class is only open to those with a machine from the DX series (machines with an auto blade). The required kit fee of $175 will include all the materials for each project and a workbook to walk you through each lesson. There is no class fee if your Scan n Cut was purchased at Rae-Bon Sew & Quilt Shop. The class fee is $150 for machines purchased elsewhere (kit purchase also required). Please stop in or give us a call to register for Learn to Use Your Scan n Cut.

Class 1:
Let's get the Scan n Cut out of the box! It's okay if you've never used your machine. We'll start with the basics this session and cut a couple of built in designs. We'll also go over different setting options and tools built into your machine.
Projects: Framed Quilt Block and Wood Ornament
Materials to Cut: cotton fabric and iron on foil
Sampling of Skills You'll Learn: fussy cutting, drawing seam allowances, resizing designs, and weeding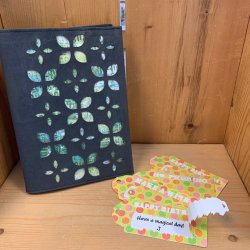 Class 2:
While the Scan n Cut works without a computer program, Canvas Workspace really expands what you can create. They also offer a ton of ready to go projects for you. This session we'll setup a Canvas Workspace account and play with some of the basic features. Laptop (recommended) or tablet required.
Projects: Cork Notebook Cover, Tear Away Gift Tags, & Vinyl Text for Framed Quilt Block
Materials: cork, cardstock, and vinyl
Sampling of Skills You'll Learn: exporting files from Canvas Workspace, importing SVG files, adding text for cutting and drawing, how to layer vinyl
Class 3
The Scan n Cut makes cutting out appliques a breeze. Did you know the Scan n Cut can read a pes file? We'll cut applique for machine embroidery. We'll also use a printed pattern to create a cut file.
Projects: Cupcake Zippered Pouch, Hello Spring Banner, and Camera Applique Mug Rug
Materials: fabric with a variety of fusible web and OESD glitter vinyl
Sampling of Skills You'll Learn: working with a pes file, scan to cut data, adding an offset, and utilizing the drawing tool
Class 4
Canvas Workspace allows you to create your own cut files. This session we'll dive deeper into all Canvas Workspace can do. Laptop (recommended) or tablet required.
Projects: Collection of Greeting Cards and envelopes
Materials: cardstock, transparency film
Sampling of Skills You'll Learn: Process overlap features, character spacing, image tracing, creating score lines, and direct cut

Class 5
Did you know your Scan n Cut could cut wood? Or that you can use a stencil to wood burn? Let's put all of your Scan n Cut knowledge to use and create some on trend home décor items. Laptop (recommended) or tablet required.
Projects: Felt Flower Wreath and Wood Round Sign
Materials: felt, vinyl, basal wood
Sampling of Skills You'll Learn: wood burning with a stencil, installing premium functions, review multiple ways to create cut files