Embellish License to Create
4 months…. 12 projects… Heirlooms to last a lifetime!
Shake off winter and bloom anew with the Spring Sewing, Summer Growing season of License To Create™.
Are you ready to try something new with machine embroidery?! License to Create is a four month program with 12 EXCLUSIVE projects! These projects are right on trend and perfect for home decor and gifts.
While creating the projects, you'll learn skills to last a lifetime. It's also a great opportunity to test out new products like Embellish stabilizers, mylar, puff foam, one step iron on foil, and more. All of the designs fit in a 5 x 7 hoop and are available in multiple machine formats.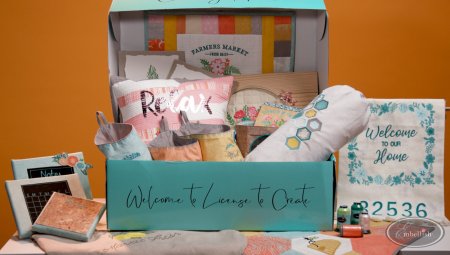 The projects include:
Bee Happy Floor Mat
Enjoy the Journey Bicycle Pillow
Spring Flowers Wall Hanging
Framed Herbal Art
Honeycomb Bolster Pillow
Woven Cork Basket
Spring Notebook Cover
Lemon Fresh Market Tote
Farmers Market Tray Liner
Personalized Welcome Banner
Customized Hanging Pockets
Chalkboard Weekly Planner
The License to Create™ program is inspired by Hope Yoder, and developed by the Embellish® line of products, to give you a Season of Exclusive Class Projects & Designs normally valued over $900.00! You can join the club for only $299.99. The club includes:
USB stick with Exclusive Embroidery Designs and Tutorial Videos
Binder of Full Color Instructions
All of the Embellish Stabilizers and RNK products needed to create each of these projects
In Person Classes
Optional fabric kits will be available for most of the projects for an additional charge.